FAMILY HISTORY:
My father's ancestors on his father's side were from Canada and England. They settled in Massachusetts, USA in the early 1900s. His mother's father was from Italy, and mother from Maine. My dad, the eldest of eight children, was an electronics engineer. He was a gifted amateur musician who played the harmonica and steel guitar his entire life. He was a talented person with many interests: an electronics teacher, ice skating teacher and furniture maker. He was also an avid cyclist, and owned a Cinelli, Fuji and Raleigh. He built the Cinelli himself after he acquired the parts from Italy. He said the Cinelli was the Stradivari of racing bicycles, and took part in bike racing in his 50s. He was a perfectionist about everything he did and was a truly exceptional person, one of those rare people who is really good at everything. His father was an ambitious, well-known builder with his own company, and his mother sang and played the bugle in their local Episcopal church.
My mother's parents came to the USA in the year 1920. After arriving at Ellis Island in New York from Naples, Italy, my grandparents settled in Massachusetts. My grandfather was originally from Atina, and grandmother from Villa Latina, small towns southeast of Rome. My grandfather was a distinguished veteran of WWI. He fought in the foxholes of the famous Battle of Vittorio Veneto that ended WWI on the Italian front. He was awarded Cavaliere, one of the five orders of Knighthood of the Italian Republic.
My grandfather was a talented mason and generous person who rebuilt his cousin's house in brick and stone at no charge; he refused payment. He played the mandolin, and he and my grandmother sang over 100 Italian songs, including Toselli's Serenade which I learned on the violin at my lessons. He listened to famous tenor Enrico Caruso, and had speakers leading from the stereo into the kitchen. The first word I spoke was "PA" referring to my grandfather, for my own father had tuberculosis when I was born and was in the hospital for a year. Luckily my Dad survived and my parents had three more children after me, so they had five children altogether.
My grandmother was an electronics assembler at General Electric for thirty years, and an Italian language tutor. She was an incredible cook; everyone in my entire family tree follows her recipes. My grandparents had 8 children and I have 35 first cousins.
My mother enrolled in college after raising her 5 children. She majored in computer science, got straight As and tutored other students. She retired in her 70s after working in finance for 20 years and received a Lifetime Achievement award from her company. Like my father, she has a lot of musical talent; she sings and plays the piano, guitar and accordion. As a teenager, she performed in a musical group with her sisters; all would become wonderful role models for me. I enjoyed playing my violin along with my parents. They played country western music, and brought us to live concerts in New Hampshire. My mother and father were both excellent ice skaters and winners of pair skating competitions, and were judges of solo figure skating competitions. They were married for 55 years before my father passed away. One of my sisters passed away a year and a half before my father. She learned to play the cello in her mid 40s. She began lessons with me and then found a cello teacher at a local music school in her state. We were together at a music store when she bought her first cello.
One of my brothers played the trumpet when he was young, but I am the only professional musician. Each of us focused on one forte; a computer company owner and software developer, a senior fundraiser, an electronics engineer, an ice skating teacher. We keep up our Italian family traditions. Every Christmas eve we all go to one of my brother's houses for his famous 7 fish-dish party, and Christmas day we go to my other brother's house for an Italian feast.
MUSICAL TRAINING:
In the second grade, my school teacher was impressed with my ability to sing Kodaly solfege syllables "do, re, mi, fa, sol, la, ti, do." I learned key signatures quickly and was allowed to take music books home to practice my solfege. Modulating from key to key seemed easy. I enjoyed singing solos in school plays, assemblies and graduations. In the third grade I sang Beautiful Dreamer by Stephen Foster at my school's fourth grade graduation.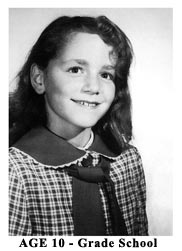 Violin lessons were offered at school when I was in the fourth grade. I asked my parents if I could take lessons. Of course, my mother wanted me to play one of the instruments we owned, such as the piano, guitar or accordion, but I preferred the sweet, soothing, lovely sound of the violin. With encouragement from my school teachers, my parents agreed to have me study the violin. I was 9 years old. My very first violin teacher was Alan Hawryluk, a graduate of New England Conservatory who had studied with Joseph Silverstein and Eric Rosenblith.
At my first lesson, I tried to draw a straight bow on each string. It felt awkward on the G-String. At another lesson, the entire neck broke off of my violin while my teacher was tuning it! On another occasion, my violin fell out of its case into the snow as I was walking home from school! It was a very old, wooden violin case; the clasps were not working well. At the end of the semester Mr. Hawryluk left my school system to move on to another teaching position. His replacement was less encouraging, saying my "thumbs were too long to play the violin." I thought I was going to quit playing violin and join the swim team! My mother said I could only pursue one thing. So, at the beginning of my fifth grade school year, the most popular violin teacher of the North Shore in Massachusetts came to my rescue. He was Joseph Leary. He was a kind, ambitious and dedicated teacher who guided me through my formative years of playing. He never mentioned my left thumb. My parents bought me a beautiful, modern Italian violin made by Giulio Degani from Mr. Leary.
In the sixth grade I was asked to play Climb Every Mountain from the Sound of Music as a violin solo at my graduation ceremony. In the seventh grade, I performed Czardas by Vittorio Monti at a school assembly. My general music teacher and piano accompanist, Angelica Sarris, was a graduate of New England Conservatory. She was an excellent accompanist. Beatle songs were popular at the time, so I played Michelle and Yesterday as well as many Fritz Kreisler showpieces with her. In the eighth grade I was given the Most Ambitious award at school, and performed Violin Concerto No. 9 in A minor by Charles-Auguste De Beriot with an orchestra. I played Nigun by Ernest Bloch at my ninth grade graduation ceremony. What wonderful opportunities to perform!
I practiced three to five hours a day, stopping only to go to school, do homework and chores, and go to my three orchestra rehearsals each week. I got straight As on my report card, but Violin was my life. Beginning at age 14, I played in the North Shore Philharmonic conducted and founded by Rolland Tapley. Mr. Tapley is in the Guinness Book of World Records for playing in a symphony orchestra longer than anyone. A total of 55 years playing violin in the Boston Symphony! I also played in the Glen Magna Strings and Marblehead Community Orchestra, both conducted and founded by my teacher Joseph Leary.
I played at nursing homes in a small band (accordion included), and performed solos at weddings and Christmas eve midnight masses. Solo performances at the historic Old North Church in Boston were also memorable, and as mentioned earlier, I enjoyed playing along with my parents who loved country western music. I had a full schedule as a teenager!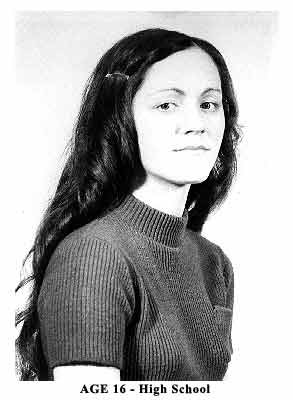 The dedicated support and guidance of my music instructors throughout grade school, junior high and high school proved to be worthwhile. I set my sights on attending the New England Conservatory of Music as early as the seventh grade. My first violin teacher, Alan Hawryluk, kept in contact with me and before my tenth grade school year, he suggested I audition for the chairman of the string department at NEC. This teacher was Eric Rosenblith, well-known pedagogue and former student of Carl Flesch. I played the entire Mendelssohn Violin Concerto for him. I loved studying with him for a total of eight years! He was an incredible violin teacher who supported each student with intense dedication and enthusiasm.
After my first year of study with Mr. Rosenblith, I played the first movement of the Brahms A Major Violin and Piano Sonata on the popular television show, Outlook New England. Frances Brockman Lanier, founder of NEC's Preparatory School, spoke on behalf of the school alongside the program's host, Frank Avruch. The year was 1972 and I was in the eleventh grade. I also won the audition to be concertmistress of the 1972 Massachusetts All-State Orchestra after playing the first movement of the Mendelssohn Violin Concerto! Another highlight for me was playing with conductor Tibor Pusztai of NEC's prep division orchestra. We played on the popular TV show Boomtown!
After graduating from high school in the spring of 1973, I fulfilled my ambition to study at the New England Conservatory, entering as a Violin Performance major the following fall. My audition to enter NEC went very well. Mr. Rosenblith said I played better than any graduate student who auditioned, and I was entering as a freshman. Everything was going extremely well at first. I was principal second violin of the NEC orchestra conducted by Richard Pittman, and Mr. Rosenblith was giving me three private lessons per week. I vividly remember playing the following pieces in masterclasses: Wieniawski Violin Concerto No. 2 in D Minor, Glazunov Violin Concerto in A Minor, Bartok Violin Concerto No. 1, Wieniawski Polonaise Brillante No. 1, Bach E Major Violin Concerto, Beethoven and Brahms Sonatas, and several unaccompanied Bach Sonatas and Partitas. Other pieces I performed in recitals or auditions were Donald Harris's Fantasy for Violin & Piano, Prokofiev Solo Sonata, Mozart and Handel Sonatas, Wieniawski Polonaise Brillante No. 2. I wrote a Cadenza for Mozart Adagio in E Major and performed it at a recital.
At the beginning of my sophomore year I developed a pinched nerve in my neck which eventually healed. Using a higher chin rest and shoulder rest, and holding my head straight solved this issue! I was able to continue my studies and perform in masterclasses for three more years, but due to another injury, I was unable to complete my NEC training for several years. I tore ligaments in my left forearm while lifting heavy boxes at a store. Not a great job for a violinist! Playing my violin healed my arm. Vibrato in particular loosened and strengthened the muscles!
I studied three years with George Neikrug. He is a "genius" teacher who helps all string players overcome injuries using Dounis method ideas. Then I studied with violin teacher Yuri Mazurkevich for three years while he was head of Boston University's String Department. What an incredible teacher! Mr. Mazurkevch and the wonderful violinist and NEC teacher Nancy Cirillo helped prepare me for my final audition and recital at New England Conservatory. I'm so grateful for their guidance! I was finally able to fulfill my graduation requirement and receive my bachelor's degree in Violin Performance in 1989. Playing my recital at several nursing homes prior to my recital at NEC was in hindsight a great preparation; I was very calm at my final recital.
RUDOLF KOLISCH and ALBERT EINSTEIN:
Violinist Rudolf Kolisch was my chamber music coach at NEC in 1974 and 1977, and private violin teacher in 1978. The Kolisch String Quartet was famous for premiering Bartok, Berg and Schoenberg works and performing from memory. The day we met Mr. Kolisch in 1974: He entered the classroom and immediately asked us for our sheet music of the Brahms string quartet we would be studying for the semester. He proceeded to throw each part in the trash in a very dramatic fashion! We were to read from a full score of all parts and memorize our music. High expectations for freshmen, but we did it. The piece was Brahms String Quartet No.1 in C Minor and I played first violin.
Mr. Kolisch said he met with George Ozawa, the founder of macrobiotics, and Albert Einstein as well as other "revolutionary minds" in Paris one time each year. Einstein played the violin his entire life. Mr. Kolisch enjoyed discussing his own new concept of violin fingerings. Mr. Kolisch played left-handed due to cutting the tip of a finger of his left hand in a gate when he was age 7. He said it was easy to switch. He was never tortured as it was rumored. He said all members of his quartet ate macrobiotic food and fasted for two weeks on brown rice. Here is an interesting quote by Albert Einstein on his Theory of Relativity: "It occurred to me by intuition, and music was the driving force behind that intuition. My discovery was the result of musical perception."
Mr. Kolisch studied violin with Ottokar Sevcik and composition with Arnold Schoenberg and Franz Schreker, and conducting with Franz Schalk. My violin lessons were very intense, always starting with a chromatic scale beginning on Open G and covering the entire finger board. I studied Bartok Concerto No. 1, and the Berg and Beethoven Concertos with him.
ROMAN TOTENBERG:
Violinist and Teacher Roman Totenberg passed away May 8, 2012 at age 101. I studied with him for a few years while I was teaching at Longy School of Music in the 1980s. He was the director of Longy at that time. I'll never forget the day he came into my studio and handed me a Violin as a gift! He also gave me a huge compliment by saying how well I played the Beethoven Violin Concerto for him. He said he "had no idea I was a great violinist."
My Violin Accident:
It seems all musicians have their most dramatic story to tell about a violin, viola, cello or double bass accident they had experienced. At the end of my freshman year of college, I was commuting by bus and subway to go home; it was a long commute. While waiting for a bus I had extra time to take a walk. I proceeded away from the center of town and was crossing the street when a car came rushing around the corner and hit my violin out of my hand!! It flew up into the air, came down and crashed on the ground!! This was the wonderful modern Italian violin my parents bought me in the 5th grade. A Giulio Degani! It had a major sound post crack which was repaired, but the sound was not as loud or as sweet as it originally was. Eventually I traded it in for another violin.
TEACHING HISTORY:
My original goal after high school was to play in the Boston Symphony, however I discovered I enjoyed teaching very much and wanted to do this full-time. At age twenty-two I was encouraged by pianist Victor Rosenbaum who said I was "a born teacher" while teaching his daughter violin. Violist Gillian Rogell, founder of Heart of Chamber Music, also had encouraging words. What better way to thank my wonderful teachers than to continue in their quest to convey a knowledge of music and the love of playing a stringed instrument!
In 1979, I taught violin in the Newton and Wakefield Public School system after-school programs in Massachusetts. In 1980 I was hired to teach at the All Newton Music School and the Longy School of Music in Cambridge, MA. During the early 1980s, I trained as a suzuki violin teacher at Ithaca College where my teacher trainers were Joan Reuning and Lorraine Fink. I also observed private lessons of several foremost Massachusetts suzuki teachers who organized teacher training workshops with well-known suzuki masters such as William Starr and Shinichi Suzuki himself. I taught at ANMS from 1980 to 1984 and Longy from 1980 to 1987. I directed both suzuki programs at Longy in the 1980s and at Brookline Music School in the 1990s.
In the fall of 1992 I began teaching beginner violin courses at the Boston Center for Adult Education. There had never been an adult violin group course taught in the Boston area before. Seventeen students signed up for the first class! I was soon asked to teach an adult course in Brookline and Cambridge, but did not have the time. I suggested colleagues for those positions. Years later I moved and taught a course at the Cambridge Center for Adult Education in Harvard Square from 2003 to 2015. Courses offered were beginner violin, violin duet, beginner viola, beginner cello, beginner double bass and string orchestra. Teachers came to observe my classes. I've also given teacher training courses at CCAE, colleges and music conferences.
MY METHOD:
The ABCs of Strings method series developed as a result of teaching beginning, intermediate and advanced students of all ages after my first twenty years of teaching. My primary aim is to make the playing of a stringed instrument easier and more accessible to everyone of any age group. You can learn more about my method of teaching on The ABCs of Violin for the Absolute Beginner DVD and The ABCs of Violin for the Intermediate Player DVD. My violin student Yuki Beppu performs all 69 pieces from ABCs of Violin Books 1 and 2 on the intermediate DVD.
My Complete Technique method series for Violin, Viola, Cello and Double Bass was introduced in 2014. Details and Sample Pages
The first book of my ABCs of Strings series, The ABCs of Violin for the Absolute Beginner, was first published on January 8, 1998. I had three different publications in print when I attended a Suzuki Convention in Chicago, Illinois as an exhibitor in May of 1998. As I was taking a limo taxi from the airport to the convention center, I met the president of publisher Carl Fischer Music. He asked me to send him my books. Three months later I signed on with them. The enthusiasm for my method books at the convention was substantial; all 130 books brought were sold
ACKNOWLEDGEMENTS:
Thank you to the dedicated, hard working staff of Carl Fischer Music for making my ABCs of Strings method so widely available. Thank you to all the music store owners and staff who carry them.
Thank you to all of my teachers - from grade school through college and post-graduate studies - for your expert guidance and support. Thank you to all of my students for teaching me to become a better teacher over the years.
Thank you to my own parents for supporting me and driving me everywhere, and thank you to my sisters and brothers who listened to me practice every day for hours on end!
And lastly, thank you to all of the teachers, students and parents using my method books in private studios, classrooms and home practice. For a list of teachers using my method, click here: Teachers
May we all share in the joy of spreading the fine art of string playing!
Sincerely,

Janice Tucker Rhoda
Author ABCs of Strings and Complete Technique