ABCs of Flute
Flutist Amy Porter
Publisher Carl Fischer Music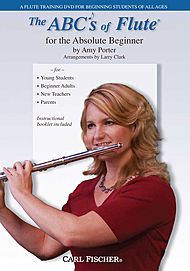 The ABCs of Flute for the Absolute Beginner DVD
Actress, Flutist, Teacher: Amy Porter
Director: Larry Clark
Studio: Carl Fischer/Eko Productions
Publisher: Carl Fischer Music
CF Catalog Number:
DVD26
ASIN: B00316ZHTO
Year: 2010 Duration: 65 minutes
BUY
(Carl Fischer)
BUY
(Amazon USA)
Carl Fischer Music's new
The ABCs of Flute
features world-renowned flutist and pedagogue Amy Porter. This DVD is a comprehensive beginning study guide to playing the flute with information about breathing, embouchure, hand position, air direction and caring for your instrument. It also features tunes with up to six notes, and ventures briefly into the upper and lower octaves. Amy Porter performs the featured tunes with piano accompaniments arranged by Larry Clark. This DVD also includes a 16-page instructional booklet. For beginning players. This DVD can be played in ALL REGIONS.
ABCs OF STRINGS & COMPLETE TECHNIQUE TITLES
by
Janice Tucker Rhoda